#Mediapro (GolT) sold #LigaBBVA to #beIN via #ImaginaUSA contra co-broker #Prisa & #Canal+ (Sogecable) w/9 clubs. #soccerblackout @footleaks
— Madridismus (@Madridismus) August 19, 2012
Here is a brief of articles on an attempted eclipse over the Spanish Empire (El imperio en el que nunca se pone el sol):
by Lucas Navarrete on Aug 5, 2012 9:53 AM CEST in Real Madrid CF: News
Kevork Djansezian - Getty ImagesMore photos »
16 days ago: CARSON, CA - AUGUST 02: Florentino Perez (L) president of Real Madrid and Tim Leiweke, (R) president of Anschutz Entertainment Group (AEG), which owns the Los Angeles Galaxy speak during the World Football Challenge at The Home Depot Center on August 2, 2012 in Carson, California. (Photo by Kevork Djansezian/Getty Images)
Spanish Liga BBVA might start with a strike once again. This time it won't be about the player's situation but the TV deal and games schedule, as teams like Atlético de Madrid, Valencia, and Sevilla are very unhappy with the current TV situation in Spain.
There are two main TV platforms where spectators can watch soccer games: GolT (Mediapro) and Canal+ (Sogecable). Each of these two platforms negotiates an individual contract with each of the 20 teams of the Liga. Mediapro, for example, has the TV rights for FC Barcelona and Real Madrid, while Sogecable owns Atlético, Valencia and Sevilla's. These past few years, both Sogecable and Mediapro reached an agreement so that both of them could broadcast teams with rights they didn't own.
But everything is different this year. There are only two weeks remaining until the competition starts, and at this point in time, Sogecable will not be able to broadcast the game between Real Madrid and Valencia played at the Bernabéu. Everything would seem kind of legitimate if it wasn't for one thing: the LFP (the association, such as the NBA) is scheduling Sogecable's games to be at 23:00 CET to take away from their audience. They are institutionally favoring Mediapro.
Neither the teams nor Sogecable agree with this. The powerful broadcasting enterprise is willing to wait until the Spanish court decides instead of reaching an agreement with Mediapro that could cost them a large amount of money. But they could lose tons of subscribers if they're not able to broadcast the two biggest clubs in Spain.
The clubs that signed with Sogecable feel attacked as well. It's obvious that 23:00 CET is probably not the best time to play, but these clubs could not only lose sport-wise. If the games are played at that time, only the die-hard fans will go to the stadium, so the ticket revenues will decrease substantially.
It looks as if everything could be solved this incoming week. Even the Spanish Government said they could force both companies to reach an agreement and stop this "Football Broadcasting War III", but it will be hard for Sogecable, like Mediapro, is struggling financially.
Do you think the LFP's game scheduling is legitimate? Tell us on facebook or twitter @managingmadrid.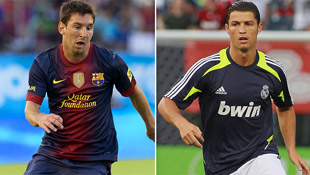 Friday, August 17, 2012
U.S. TV limited for La Liga, Serie A
Associated Press
NEW YORK -- Lionel Messi's and Cristiano Ronaldo's league matches will disappear from the television sets of many American soccer fans, starting this weekend.
With new limited TV rights for La Liga and Serie A, TV viewers will see little of Leo Messi and Ronaldo. (no_source)
That's because the U.S. television rights to Spain's La Liga have switched from GolTV to the new beIN Sport USA network, launched this week by the Al-Jazeera Sport Media Network and available in only about 8 million homes to viewers of DirecTV and DISH Network.
And it's not just Spain's soccer that is affected.
Italy's Serie A, France's Ligue 1, England's second-tier League Championship and England's League Cup also have moved to high-spending beIN Sport, which is taking over all of them from News Corp.'s Fox Soccer.
"The ratings are going to be so low that they will be almost unmeasurable," said Marc Ganis of the Chicago-based Sports Corp. Ltd., consulting firm. "Considering the push that European soccer is making in the United States, taking additional money and losing exposure becomes fools' gold. They need to have a long-term strategy, not short-term."
The new network will not be rated by Nielsen at the start, but hopes to be at some point, according to managing director Yousef Al Obaidly. It also will be available online to authenticated subscribers of DirecTV and DISH.
"There will be more announcements coming soon," he said Thursday. "We are in a discussion with all the cable operators. Hopefully, we can reach an agreement so we can keep everyone happy."
Now that the European seasons are starting, at least some clubs are worried their leagues made a mistake by taking dollars over distribution. Complicating the matter, a dispute broke out in Spain, with some clubs saying their television rights were sold by a company that doesn't own them.
"I know Madrid and Barcelona are already concerned by what has happened domestically," AC Milan director Umberto Gandini said in a telephone interview. "We were trying to maximize revenues ahead of visibility. Frankly speaking, we were not aware of such difficulties reaching viewers in the United States and the fact that we are going to be penalized highly by the difference in viewership."
The big Spanish and Italian clubs will have their Champions League and Europa League midweek games available in the U.S. on Fox. In addition, RAI USA distributes Serie A matches with Italian commentary and Ligue 1 games will be available with Spanish commentary on Univision Deportes.
All of this could make the U.S. market a soccer Tower of Babel.
"It's a complicated situation," Real Madrid's Jose Mourinho said. "I'm glad I'm just a coach and no more than that, and I think about football and the game and prepare my team."
The English Premier League, which has the biggest American following, sells its international rights directly. Serie A, which didn't centralize rights as a league until just a few years ago, sells them through the agency MP & Silva. La Liga sells them through Mediapro -- but until an agreement this week to share domestic rights for three seasons, rival Prisa claimed it represented nine of the 20 clubs.
Imagina USA, a Miami-based company that is part of the Mediapro Group, is beIN Sports' production partner. The English network launched Aug. 3 in an online preview at www.beinsport.tv and beIN Sport announced Wednesday -- the official launch date -- it will be carried on DirecTV's sports tier in high and standard definition and beIN Sport en Espanol will be distributed on DirecTV Mas in standard definition. A day later, it said DISH Network will televise beIN Sport on its America's Top 250 and DISHLatino packages.
Looming ahead is bidding for the U.S. rights to the Premier League. Networks anticipate a request for proposal next month for the package starting in 2013-14 and running for three seasons. Fox currently holds the rights and sublicenses some to ESPN and ESPN Deportes.
"We might get into it. We might not," Al Obaidly said. "We have to look into scheduling and financials."
The EPL averaged 185,000 viewers for 118 live telecasts on Fox Soccer last year, 321,000 for 48 broadcasts on ESPN2/ESPN and 58,000 for 54 games on ESPN Deportes, according to data from Nielsen Media Research and the networks. Serie A averaged 54,000 viewers for 96 live telecasts on Fox and Ligue 1 53,000 for four broadcasts on Fox.
GolTV averaged just 29,000 viewers for 75 La Liga telecasts among its Hispanic audience, the only portion Nielsen measures. ESPN Deportes averaged 115,000 people in its Hispanic audience for La Liga, but viewers swelled to an average of 770,000 for the two league "clasicos" between Real Madrid and Barcelona.
"It's going probably from a better distributed network to lesser distributed network," said Lino Garcia, general manager of ESPN Deportes. "Therein lies the real difference to the viewer. Some of this product is going to be unavailable to many fans for which it was available to before."
Without La Liga, GolTV's only European league is the German Bundesliga, which had a rating in the network's Hispanic audience that was too low to measure. There has been speculation that beIN Sport USA would like to take over GolTV, if the price is right.
Play-by-play man Phil Schoen and highly excitable color commentator Ray Hudson have moved from GolTV to beIN Sport.
"GolTV has greatly enhanced its portfolio of soccer from the Americas," Rodrigo Lombello, GolTV's chief operating officer, said in a statement. "Reaching new agreements to air matches from the Argentinian, Brazilian and Mexican club leagues, Gillette Brazil World Tour, CONCACAF tournaments and even the U.S. Open Cup, the network has placed an emphasis on this region in the past year as the United States Hispanic population continues to grow."
Qatar, where Al-Jazeera is based, is making a giant push in soccer. Qatar beat out the U.S. two years ago in bidding to host the 2022 World Cup, and the Qatar Investment Authority took control of Paris Saint-Germain and has spent about $200 million in transfer fees for players to strengthen its roster.
In France, Al-Jazeera bought rights to Ligue 1's Friday and Sunday night package from 2012-16; to most Champions League games from 2012-15; and to the 2012 and 2016 European Championship tournaments. In Spain, Barcelona agreed last year to a five-year, 170 million euro (then $225 million) sponsorship deal to carry the Qatar Foundation logo on its famous blue and red jerseys.
If the Premier League wants both beIN Sport's money and greater distribution, it could split its American rights into different packages for different time slots, as it does in Britain and as several U.S. leagues do at home. Premier League chief executive Richard Scudamore declined to comment ahead of the bidding.
"They are a little bit more sophisticated than us because they have been on the market as a collective-selling entity far longer than us," Milan's Gandini said. "We are still very far behind the Premier League."
ESPNsoccernet: Help | Media Kit | Report a Bug | Contact Us | Site Map | Tools | Jobs at ESPN | Supplier Information | Copyright ©2012 ESPN Internet Ventures.
Terms of Use (Updated 5/6/08), and Privacy Policy and Safety Information/Your California Privacy Rights are applicable to you. All rights reserved.
IF #Prisa & #Canal+ hold their own rights to #LigaBBVA can they sell it to a US Distributor? @rtve @goltv @espnfc @foxsoccer #SoccerBlackout
— Madridismus (@Madridismus) August 19, 2012
UPDATE:
Reuters Published: 13:28 August 18, 2012 MADRID: The dispute between broadcasters which had threatened to delay the start of the La Liga season was resolved on Friday when Canal+ and Mediapro agreed a three-year deal to share the television rights. Spain's secretary of state for sport Miguel Cardenal oversaw the negotiations, which settled the numbers of games each company could show on their individual platforms each week. Mediapro will continue to show one match on their free-to-air channel each week and will control the international rights for La Liga. "The agreement...establishes a viable model for the Spanish league and presents a stable scenario for football fans for the seasons 2012-13, 2013-14 and 2014-15," Mediapro said in a statement. Article continues below "The professional soccer league (LFP), for their part, guarantee the new agreement signed by both operators." A group of 13 first division sides had forced a meeting with the LFP on Tuesday to call for a settlement of the dispute saying that it created "a situation of serious legal insecurity", and had threatened to postpone the season's start. The new La Liga campaign kicks off this weekend with champions Real Madrid at home to Valencia and Barcelona hosting Real Sociedad, both on Sunday.
http://gulfnews.com/sport/football/broadcasters-agree-la-liga-deal-1.1063259
@philschoen Ok if it's settled who's showing #SuperCopa de #ESP? With #SerieA how is #RAI feeding to US w/o #beIN rights? Can #TVE do that?
— Madridismus (@Madridismus) August 19, 2012
"Keep the crooks out of our #football!" Phil paraphrasing #protests at @rayovallecano @rayhudson @philschoen madridismus.blogspot.com/2012/08/soccer… #footleaks
— Madridismus (@Madridismus) August 20, 2012
Comcast to carry beIN Sport
Fan Culture, Featured, Soccer on TV — By Ed Farnsworth on August 23, 2012 5:21 pm
be In Sport announced on Thursday afternoon that Comcast will become the first cable television provider to carry the new sports network, which officially launched last week.
A tweet from Comcast confirmed the announcement.
The new sports network, which has both English and Spanish language channels and is owned by Qatar-based Al Jazeera, caused waves when news broke that it had secured the American broadcast rights to Spain's La Liga, Italy's Serie A, France's Ligue 1, South American World Cup Qualifiers and Copa America 2015. On Wednesday the network announced that it had secured the rights to broadcast the away games of all USMNT CONCACAF qualifiers for the 2014 World Cup.
The announcement from beIN Sports said that Xfinity TV customers will be able to view the network's programming on TV, On Demand, Online and on Mobile Devices.
"Adding to Comcast's leadership in offering the most live sports on television and online, beIN SPORT will be available in Spanish on the Xfinity TV MultiLatino Package and in English on the Xfinity TV Sports Entertainment Package," the announcement said.
So, presumably, if you already subscribe to Fox Soccer Channel and GolTV, you will also receive beIN Sport. I say presumably because the announcement also said, "Availability of both channels will vary by market."
The announcement said further, "In addition to its linear TV networks, select beIN SPORT content will be available on demand via Comcast's Xfinity On Demand platform. Live matches carried on beIN SPORT's linear networks, along with additional live matches, will also be available to authenticated Comcast Xfinity TV customers via Comcast's online and mobile TV Everywhere platforms."
An unnamed spokesperson told the Washington Post's Stephen Goff, "Right now, the network will be available in SD on Xfinity."
For those who do not subscribe to Comcast, a tweet from beIN Sport said, "More announcements coming once official."
Just when the network will be available to Comcast subscribers is unclear. A tweet from Comcast said only, "We will begin carrying more European soccer action in the upcoming weeks."
USMNT supporters will want to know whether Comcast will have the channel available in time for the World Cup qualifier against Jamaica on Sept. 7. ESPN holds the rights to broadcast the USMNT's home qualification games.
When beIN Sport was launched last Wednesday, carriage deals were only in place with Dish Network and DirecTV, who combined only reach approximately 7 percent of US television households.
US Soccer president Sunil Gulati said before today's announcement, "We don't control the rights for our away matches but have talked with beIN Sport and know that they have an aggressive plan to expand distribution over the weeks and months to come. Obviously, we'd like as wide a distribution in the US as possible for our WCQ matches."
Concerns over the network's distribution were also voiced from Europe. AC Milan director Umberto Gandini said in an AP report last Friday, "I know Madrid and Barcelona are already concerned by what has happened domestically. We were trying to maximize revenues ahead of visibility. Frankly speaking, we were not aware of such difficulties reaching viewers in the United States and the fact that we are going to be penalized highly by the difference in viewership."
http://www.phillysoccerpage.net/2012/08/23/comcast-to-carry-bein-sport/
#Vodafone Gerard Kleisterlee & #Verizon Lowell McAdam should #swig w/@florentinoprez about @beinsport1usa @realmadriden twitter.com/Madridismus/st…
— Madridismus (@Madridismus) August 25, 2012
GolTV Official Response:"As a result of DirecTV's new relationship with the Emir of the State of Qatar and... fb.me/1tawee3op
— GolTV (@GolTV) August 31, 2012
GolTV
August 23
Official GolTV Response on the Broadcasting of the Spanish League:
The U.S. broadcast rights to La Liga no longer belong to GolTV and have been purchased by Qatar's Sheikh Hamad bin Khalid Al Thani, owner of Al Jazeera. We are not aware of his plans for the United States. GolTV is focusing on strengthening our portfolio of top play from across the Americas including Brazilian national team matches and league play; delivering more in-depth coverage of European soccer including Bundesliga and World Cup qualifiers; enhancing original programs such as GolTV News; and most importantly, maintaining the network's position as the number one soccer destination in anticipation of the 2014 World Cup.
"As a result of DirecTV's new relationship with the Emir of the State of Qatar and founder of Al Jazeera, Sheikh... fb.me/1GdfPnQrh
— GolTV (@GolTV) September 10, 2012
"As a result of DirecTV's new relationship with the Emir of the State of Qatar and founder of Al Jazeera, Sheikh Hamad bin Khalifa Al-Thani, DirecTV intends to remove GolTV from its Sports Pack effective September 13. Despite GolTV's efforts to negotiate a solution for soccer fans, DirecTV is determined to eliminate more than 500 live and exclusive soccer matches aired each year by the network. For consumers who love soccer and want to see GolTV's 24-hour programming including Bundesliga, European World Cup qualifiers, the Lamar Hunt US Open Cup and top leagues and tournaments from the Americas, we urge you to contact DirectTV at 1-888-777-2454 or by clicking here to let them know you want GolTV to remain a part of the Sports Pack, enabling you to watch your favorite teams on GolTV. Subscribers to the Mas Latino package will still be able to watch GolTV on channel 456."
http://www.facebook.com/GolTV